Frequently asked questions about our reusable products
Questions about the ÖkoBowls
Frequently asked questions about printing
Direct customers can use your products from 128 pieces return for free. Please note the points mentioned below for the return shipment.
This is how the return works
Please contact us by email before returning mein@oekocup.de or phone (030-403039-19) so that we can send you a return slip. Please note the amount returned on the corresponding return receipt.
Our hygiene regulations for returns
Thoroughly clean all products before returning them, ideally in the dishwasher over 65 degrees to kill viruses and germs
Pack the products well for transport (nothing should come out or fall over)
Enclose our return slip, which we will send to you or you can create and print out yourself
Hand in the package free of charge at the nearest DHL shop
From what quantity is the return free of charge?
Returns can from 128 pieces can be made free of charge. If you have fewer cups, you can dispose of them in the yellow bin (recycling bin). There, too, our cups are recycled for other products by the responsible waste disposal company. Please refrain from disposing of it in a public garbage can or in the residual waste, as the cups are sent there for thermal recycling (incineration).
Where can I get a DHL return label from?
Depending on the country, you can create a prepaid return label yourself using the corresponding link, but please contact us beforehand:
– Returns from Germany (DE)
– Returns from Austria (AT)
– Returns from Switzerland (CH)
Simply print it out, fill in our return slip, stick it on and hand it in at your nearest DHL branch.
Do you have a larger return? No problem!
Please contact us, we will give our shipping partners the order to collect the multi-dwelling products! Please place the cleaned goods in our ÖkoCup boxes on a pallet. It is ideal if you send the return with your new order, i.e. in 1 to 1 Connect exchange. Of the 1 to 1 Exchange is much better ecologically, as the driver only has to drive to you once, which saves fuel, Co2 and tire wear.
The products are carefully checked and sorted after receipt of the delivery. This is followed by cleaning and regranulation so that we can use the raw material again.
According to Wikipedia, zero waste means: "It aims to lead a life in which as little waste as possible is produced and raw materials are not wasted. The goal is to be achieved in particular through refusal to consume, avoiding waste, repairs, reuse, composting and recycling. "
We can only support this movement. The products from the ÖkoCup try to avoid waste. The possible uses of our products are so diverse that with our cup you can save hundreds of disposable cups per use. A disposable cup is usually only used for about 15 seconds. Around 460,000 coffee-to-go cups are used in Berlin every day. That makes an unbelievable sum of 167 million cups per year, only in Berlin.
source:
https://de.wikipedia.org/wiki/Zero_Waste
https://www.bmu.de/faqs/coffee-to-go-becher/
Many manufacturers have been writing for some time 100% recycling on your products. Unfortunately, that's not entirely true. It is correct that PP and many other plastics (depending on the color) can also be reprocessed into new products (mostly secondary materials) if disposed of correctly. Example: a mug becomes a flower pot. But that's not recycling, it's a Downcycling or upcycling. . After a few cycles, the material can no longer be used.
Also, too many recyclable raw materials are still fed to the thermal recycling (incineration) via the household or residual waste bin due to incorrect disposal by the consumer (not in the recycling bin). The raw material is destroyed in this case, although it still brings a little heat through burning, the material is then gone.
The cycle is interrupted and new material has to be produced. New production generates electricity, oil, water and many other raw materials that do not have to be used again for recycling. We try that Cradle to Cradle principle, that strives for a consistent and consistent recycling economy. Only when we get our products back can the cycle close and the material come back into circulation.
Customers who buy our products have from one packaging unit the right to return the products to us at our expense. Upon receipt of the products, we carefully check, sort, clean and grind them again.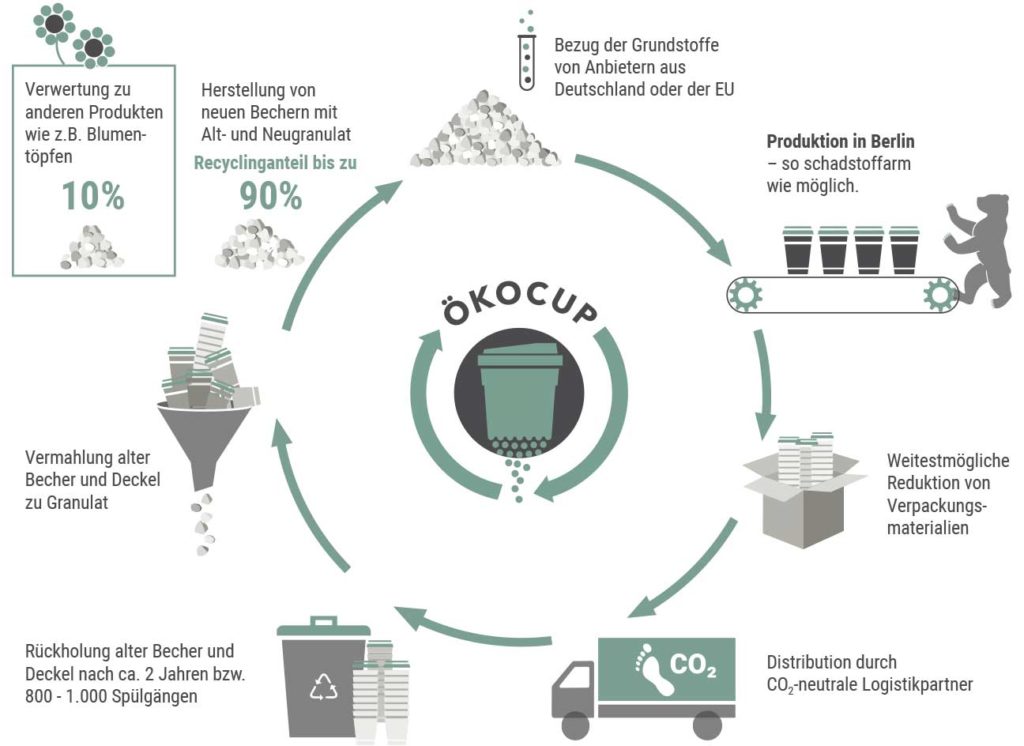 The effort of recycling after Cradle to Cradle principle is significantly higher to process than new material. Many requirements and regulations must be observed so that the material can be reused for our products. We informed customers who only buy a few cups from us that disposal in the recycling bin would at least lead to downcycling.
Frequently asked questions about vending machine solutions